Ultimate Custom Websites and Super Sales Pages
Only $127 for Unlimited Domains*
Save $30 for a limited time!
Buy Now and Get the Pre-Release of FlexSqueeze 2!
The follow-up theme to the original FlexSqueeze is right around the corner, and buyers of FlexSqueeze can now get the pre-release version of FlexSqueeze 2 at no additional cost! Easily upgrade to the final version as soon as it is available!
FlexSqueeze 2 Features
The following features are in addition to the original FlexSqueeze features:
Fully Responsive - FlexSqueeze 2 automatically adapts to different devices including phones, tablets and desktops. Control how your site reacts to different devices with comprehensive options.
Intuitive Interface – Setting theme options has never been easier. Options are easy to understand and dependent options appear and disappear as you toggle the parent option.
New QuickSets – QuickSets allow you to instantly set options for your entire site or use smaller QuickSets for layout, color scheme or menus.
Color Palettes – Easily create a seven color palette that carries throughout all the theme options to easily re-use colors without having to remember hex values.
Google Fonts – Choose any Google Fonts within the theme options and use them anywhere on your site. The visual editor accurately displays any Google Fonts used.

Save Snapshots and Undo – At any point in your design process, simply click a button and save a snapshot of the theme settings. Revert back at any point. Also undo any previous save to revert back.
Fully Redesigned Menus – FlexSqueeze 2 has new menu design capabilities that give you endless possibilities for site navigation.
Mobile-only Menu – Create completely different site navigation for mobile devices.
Build an Online Store – FlexSqueeze 2 is WooCommerce compatible so you can easily incorporate full online store capabilities.
More Control over Text and Whitespace – FlexSqueeze 2 gives you detailed control over text spacing and whitespace so you can create very open designs.
FlexSqueeze Features
NEW!

Visual editing never looked so good! FlexSqueeze now comes with it's own set of visual editor buttons that allow you to easily insert content boxes, content dividers, buy buttons, formatted lists, headings and other font styles, arrows, badges, banners, bonus boxes, columns, ratings tables, guarantee certificates, testimonials, autoresponder forms and even complete sales pages!

NEW!

Facebook templates – Embed your FlexSqueeze pages into Facebook and also create a 'Like' reveal where users see different content only after liking your page!

NEW!

Secondary navigation menu – Add a second navigation menu to your site and style it completely different from the main menu.

NEW!

Post thumbnail support – Use featured images in your posts and control their appearance in the theme options.

NEW!

Breadcrumb navigation – Include a breadcrumb trail menu in your site to aid visitor navigation and help reduce bounce rate.

NEW!

Two new widget locations – You can now add widgets at the top and bottom of your posts and pages.

NEW!

Feature area display options – FlexSqueeze has a prominent feature area between the header and content where you can position important content or offers. You can now control which on which pages the feature area displays on a page-by-page basis.

NEW!

Custom header images on specific pages – Now use a custom header image on a specific page to correlate with your content.

NEW!

Custom width sales page – The theme now includes a sales page template that you can assign a custom width to.

NEW!

Different sidebar configurations page-by-page – If you want a right sidebar on one page but a left sidebar on another page, you can now assign different sidebar configurations to each page.
Instant sales pages in WordPress - FlexSqueeze comes standard with many different sales page templates. Simply choose your template, paste in our sample sales page code and publish your page!
Over 300 theme options – FlexSqueeze not only does professional sales pages, it also it allows you to create a one-of-a-kind custom site.
Full-width header, footer and navigation – With one click, you can span your header, footer or navigation the full width of your site.
Included header and background images – FlexSqueeze has 27 header images and 29 background images to choose from. Or upload your own for the ultimate custom look! You can now even control how your custom background image repeats so if you want to center an image behind your header you can!
Navigation styles – Choose from 13 navigation menu styles and customize all of them with custom fonts and colors.
Quick Change settings make customization a breeze – If you don't want to spend the time tweaking individual settings, you can use the Quick Change settings to instantly change color scheme, design or layout in one click.
Create a blog or a website – Remove the post comments and your site visitors won't even know you're running WordPress. You get the ease of using WordPress as a CMS but without the hassles of comment moderation.
Easily customize your sidebar – There are four widget-ready locations in the sidebar and you can turn each one on or off as well as control the widths, colors and fonts depending on your needs.

Full drop-down menus – FlexSqueeze supports child pages in site navigation, so you can nest pages and take advantage of a streamlined menu bar. Theme options allow you to control the height, width and colors of your sub menus. FlexSqueeze support WP 3.0+ custom menus too! Even add a second navigation menu!
Transparent header, feature and footer options – Take total control over each site section by dropping out the background if you wish.
Export your settings to multiple FlexSqueeze blogs in seconds! No need to redo your settings for each new site, just rapid-fire blog deployment! Just import your custom theme settings, activate your plugins and you're open for business! PLUS you maintain all the behind-the-scenes customization the theme is renowned for!
Custom favicons – Choose from over 75 custom favicons or easily upload and use your own favicon.
Easily add custom scripts to your footer – FlexSqueeze allows you to add any custom scripts to your theme footer.
Webmaster Tools – FlexSqueeze has built-in Webmaster Tools verification.
Easily add custom CSS code – For advanced users who need to tweak their theme beyond the built-in options, you can easily add custom CSS code via the theme options interface.
CSS rounded corners and drop shadows – For browsers that support them, you can now use CSS rounded corners and drop shadows. You also have total border and margin control over site sections.
AdSense-optimized one-click page layout! Instantly create a Google AdSense-optimized page layout that is perfectly dimensioned to display the most popular ad sizes. Easily insert AdSense ads in 5 different locations with point-and-click ease from the theme options page! No plugins required!
Content or excerpts – Easily choose to display post excerpts or content/read more link and also control the length of your excerpt and the read more text! You can even use excerpts but include the full content of the first post by designating it as a sticky post!
Use FlexSqueeze skins for super fast niche sites! Choose from the collection of ready-made niche theme skins and have a targeted niche site up in minutes! View niche skins (sold separately)
Easily upgrade from Flexibility 2 or 3! If you already have Flexibility 2 or 3 running your blogs, the transition to FlexSqueeze will retain all your customization settings and give you all the enhanced features of FlexSqueeze.
Easy access to tutorials and theme skins – Browse through available video tutorials and theme skins from directly within the theme options interface.
Includes many, MANY pre-styled page elements and graphics! I wanted to make this the EASIEST site software ever, so I include a TON of list formats, boxes, testimonials, sign-up forms, and much more. Simply click a button in the visual editor and choose the element you want to use. It instantly shows up visually so you have an excellent working preview of your page.
FlexSqueeze is more than just sales pages! Despite the name, FlexSqueeze has evolved into the ultimate site creator on the market. Customers have built sites that are very difficult to tell they are powered by WordPress. Thousands of websites are using FlexSqueeze and the chances of seeing an identical site are slim to none due to the complete control it gives you over site design.
Upgrade to a premium membership at any time! If you want to get even MORE out of FlexSqueeze, I offer a premium membership that gives you tons of code, graphics, free skins, some really nice plugins, video optin pages and other premium benefits.
Don't be this guy.
A poorly designed sales page gives a bad impression. On the other hand, an attractive sales page builds trust with your visitors. Well designed and presented sales pages can result in better conversions and more money in your pocket.
If you want to look cheap and unprofessional, keep using your current squeeze page and you'll never know how many sales you're losing!
Instant WordPress Sales Pages
The number one feature of FlexSqueeze is it's instant sales page feature. FlexSqueeze has 15 sales page designs that can be applied to any WordPress page.
Easily Create Custom Sales Pages in WordPress
Only $127 for Unlimited Domains*
FlexSqueeze was Built for Internet Marketers
FlexSqueeze is not only the best theme for creating sales pages, it also is an excellent theme for creating niche sites for affiliate marketing or AdSense profits.
Features designed specifically for internet marketers include:
Top feature area for displaying affiliate products, e-mail opt-ins, videos or any type of widgets
Footer feature area for displaying more offers or products
Easily insert AdSense or other PPC advertising in your site

Insert banner ads with JavaScript or HTML
Remove post meta data easily in the theme options
Easily insert any footer scripts or tracking codes

Export your theme settings to duplicate profitable niche sites quickly
Easily use custom header images specific to your niche
Use FlexSqueeze skins for instant targeted niche sites
FlexSqueeze Theme Skins Create Instant Niche Sites
Skins are easily imported into FlexSqueeze theme and they instantly change all 250 theme options. After importing the skin settings file and uploading any included custom images, your niche site is complete in just a matter of minutes. Skins are available at no charge for premium members and a small $9 charge for non-members.
Here are some examples from our theme skins collection.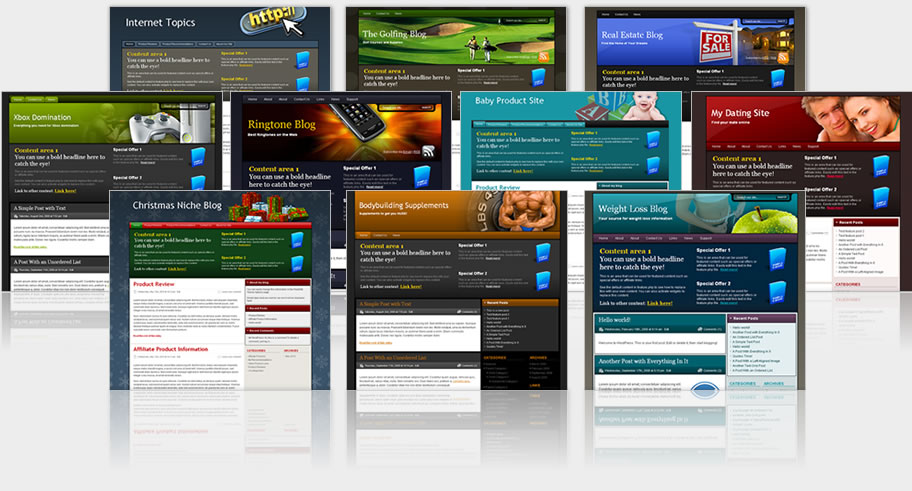 FlexSqueeze Is The EASIEST Custom Site Creator EVER!
FlexSqueeze is renowned for having a TON of options so you can create a totally custom site. But FlexSqueeze now makes it even easier to create a custom site in a matter of just a few clicks.
Get Started Quickly Using Quick Change Settings
Easily Use Different Sidebar Configurations
Create Dynamic, Attractive Posts and Pages Visually
Get an Additional 250 Sales Page Images FREE!
As an added bonus, you'll also receive access to an ADDITIONAL 250 professionally designed sales page images at NO EXTRA COST! These images include all types of buttons, icons, bursts and even sales page headers. They are available for instant download as soon as you purchase FlexSqueeze.
Buy FlexSqueeze Today and Start Building Custom Sites the Easy Way!
Having witnessed the success of FlexSqueeze users, I am extremely confident that my theme will become your favorite tool for creating profitable niche sites in WordPress. Some well known internet marketers use FlexSqueeze exclusively on their sites because the theme has a proven track record of real income generation.
Even if you don't have a need to create custom sales pages, FlexSqueeze gives you all the tools you need to create a fantastic website or blog without having to know how to code.
I've built FlexSqueeze to be so easy to master that even new users can quickly creating custom sites. There are extensive tutorials that show you step-by-step how to accomplish most tasks so help is always just a click away.
Buy FlexSqueeze now and find out why thousands of WordPress users rely on FlexSqueeze for building custom, dynamic sites.
Only $127 for Unlimited Domains*
Save $30 for a limited time!
* Unlimited domains applies to only domains you own. FlexSqueeze cannot be used on domains you do not own without purchasing a license for each additional domain or a developer license add-on. Sites using FlexSqueeze cannot be sold with the theme unless an additional domain license or a developer license add-on is purchased.